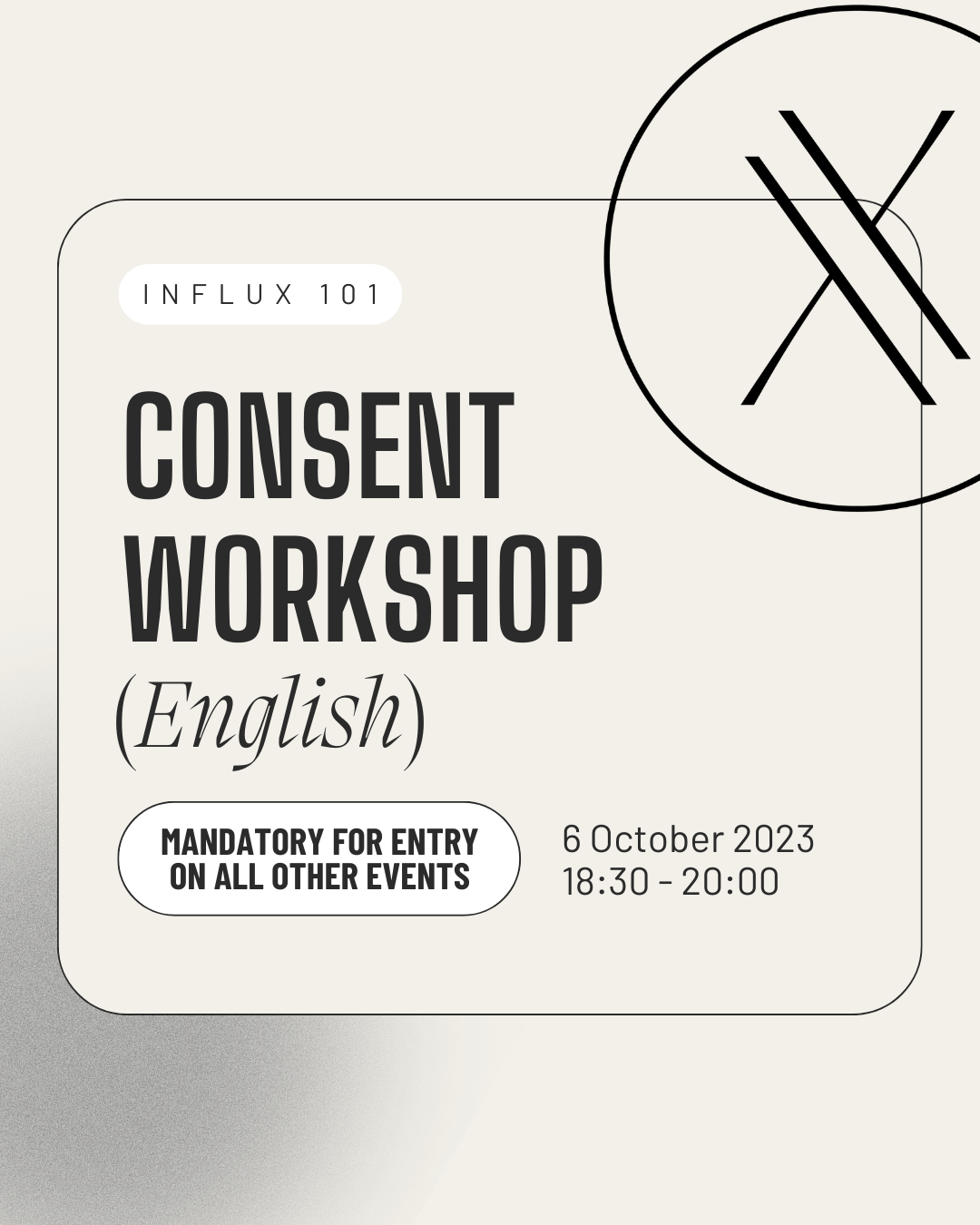 Consent Workshop (in English)
What is this event? 
This is our mandatory Consent Workshop. Participation in this workshop will give you access to all of our events at InFLUX.
You will learn about:
➜ Consent models,
➜ How consent works in relation to power differences,
➜ What we can do in case of a consent violation,
➜ And many, many more!
Learning and using the content of this workshop will make you a safer person to interact with and play with.
🇬🇧 This workshop is dedicated only to English speakers and will be held in English. Dacă vrei să înveți despre consimțământ și ești vorbitor de limba română, înscrie-te la următorul nostru Workshop de Consimțământ în limba română. Vom anunța în curând detalii despre acesta.
📝 We confirm attendance 24 hours before the start of the event at the latest. Please register at least one day before the start of the event.
🪪 Please bring your ID card with you so we can check your age at the door. We keep none of your data, but we need to make sure that everyone is an adult. You can see here how we check your ID so that all your data but your year of birth and picture are visible to us.
What happens at the event?
Schedule with breaks
🕡 18:30-19:00 – Registration
🕖 19:00-20:00 – The Consent Workshop
Please do not be late, so as not to disturb other participants. We cannot guarantee that someone will be available to open the door for you after closing time. We only accept on-time admissions to any workshops since you might miss important information.
How can you reach us?
Our address is Bulevardul Theodor Pallady 287. You can find information on how to reach us here or here.
There are many parking spaces in the area, especially in the evening or after 6 pm. The metro station at "1 Decembrie 1918" is the closest to us and it's only 8 minutes away, on foot.
Our elevator was recently fixed and is now working! So take it on a ride up to the 5th floor, where you will see the sign to InFLUX.
Our phone number is +40723258105 and you can write to us on Whatsapp before the door closing time.
Who can come?
This workshop welcomes everyone, regardless of level of knowledge about consent or any other subject.
🎫 Fill in the form below to register for this workshop. You will receive an email confirmation and we will keep you updated with information about the event. You will also receive an email reminder close to the event, so you don't miss it.
We reserve the right to select event participants.
What are you bringing? What are you wearing?
There is no dress code for this event, so wear whatever makes you comfortable.
🪪 Don't forget your ID card so we can check it at the door and ensure you are 18+!
Who organizes this event?
This workshop is hosted by Kitty Rea (she/her), a sex educator and sex coach who has been studying and interested in consent for over ten years, trying to make kink and sex games safer for herself and the people she plays with.
InFLUX Rules
Please read our rules carefully before attending our events.