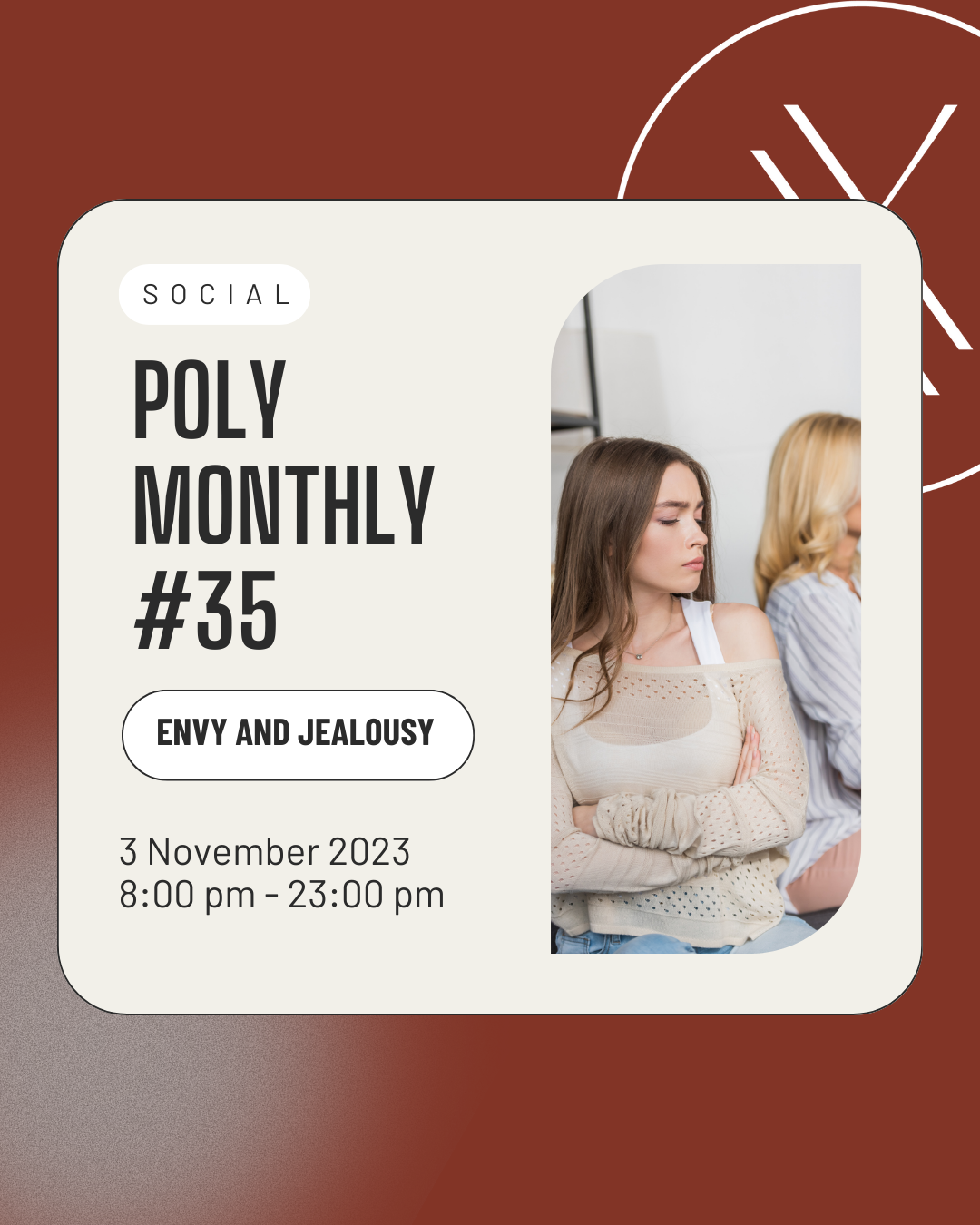 Poly Monthly 35 – Envy and Jealousy in Non-Monogamous Relationships
What is this event? 
Poly Monthly is an event dedicated to all those interested in alternative relationship styles (open relationships, swingers, polyamorists, relationship anarchists). We meet once a month to discuss a given topic. Participants' contributions are essential and give shape to these meetings, so we encourage you to propose topics that you find interesting, that you think you could learn from, that you have dealt with, or topics where you think you might have a useful experience to share.
This month we talk about envy and jealousy.
We often hear about jealousy when it comes to non-monogamous relationships, and even in monogamous ones, there is plenty of talk about it. But very rarely is the distinction made between jealousy and envy or between types of jealousy, what causes them, and how exactly to address them when they arise.
At the beginning of this event, we'll outline the differences (at least as dictionary definitions, which don't necessarily reflect personal experiences) and learn some strategies that work for some people.
Then we'll open up the discussion to find out what has worked for you. We also want to find out what hasn't worked, how you handle conflict situations related to jealousy in you, and what about when they arise in partnerx?
The Consent Workshop is not required for participation in this event but may be required for access to other events hosted by InFLUX (such as Poly Speed Dating). So you can take advantage of the opportunity and come an hour early to attend the Consent Workshop that Kitty will be holding before this Poly Monthly.
🇷🇴 This event will be held in Romanian.
📝 We confirm attendance 24 hours before the start of the event at the latest. Please register at least one day before the start of the event.
🪪 Please bring your ID card with you so we can check your age at the door. We keep none of your data, but we need to make sure that everyone is an adult. You can see here how we check your ID so that all your data but your year of birth and picture are visible to us.
What happens at the event?
Schedule with breaks
🕗 8:00 pm – 8:30 pm – Registration
🕣 8:30 pm – 23:00 am – Discussion
Please be on time, so as not to disturb other participants. We cannot guarantee that someone will be available to open the door for you after closing time. We only accept on-time admissions to any workshops since you might miss important information.
How can you reach us?
Our address is Bulevardul Theodor Pallady 287. You can find information on how to reach us here or here.
There are many parking spaces in the area, especially in the evening or after 6 pm. The metro station at "1 Decembrie 1918" is the closest to us and it's only 8 minutes away, on foot.
Take the small elevator (it's behind the large stairs on the ground floor) to the 5th floor, where you will see the sign for InFLUX. One more flight of stairs up and you're there. If mobility issues prevent you from climbing up a flight of stairs, you can take the large elevator, which will take you straight to our door, but that one is much slower.
Our phone number is +40723258105 and you can write to us on WhatsApp before the door closing time.
Who can come?
Anyone is welcome to attend our event if they are interested in alternative relationship styles or simply curious to discuss and listen to different perspectives on the multitude of relationship forms.
🎫 Fill in the form below to register for this workshop. You will receive an email confirmation and we will keep you updated with information about the event. You will also receive an email reminder close to the event, so you don't miss it.
We reserve the right to select event participants.
What are you bringing? What are you wearing?
There is no dress code for this event, so wear whatever makes you comfortable.
🪪 Don't forget your ID card so we can check it at the door and ensure you are 18+!
Who organizes this event?
George and Kitty are not experts. They are just two non-monogamous people from the community who wanted to make this space for discussion because they were curious to learn, discover, and share their own experiences.
InFLUX Rules
Please read our rules carefully before attending our events.