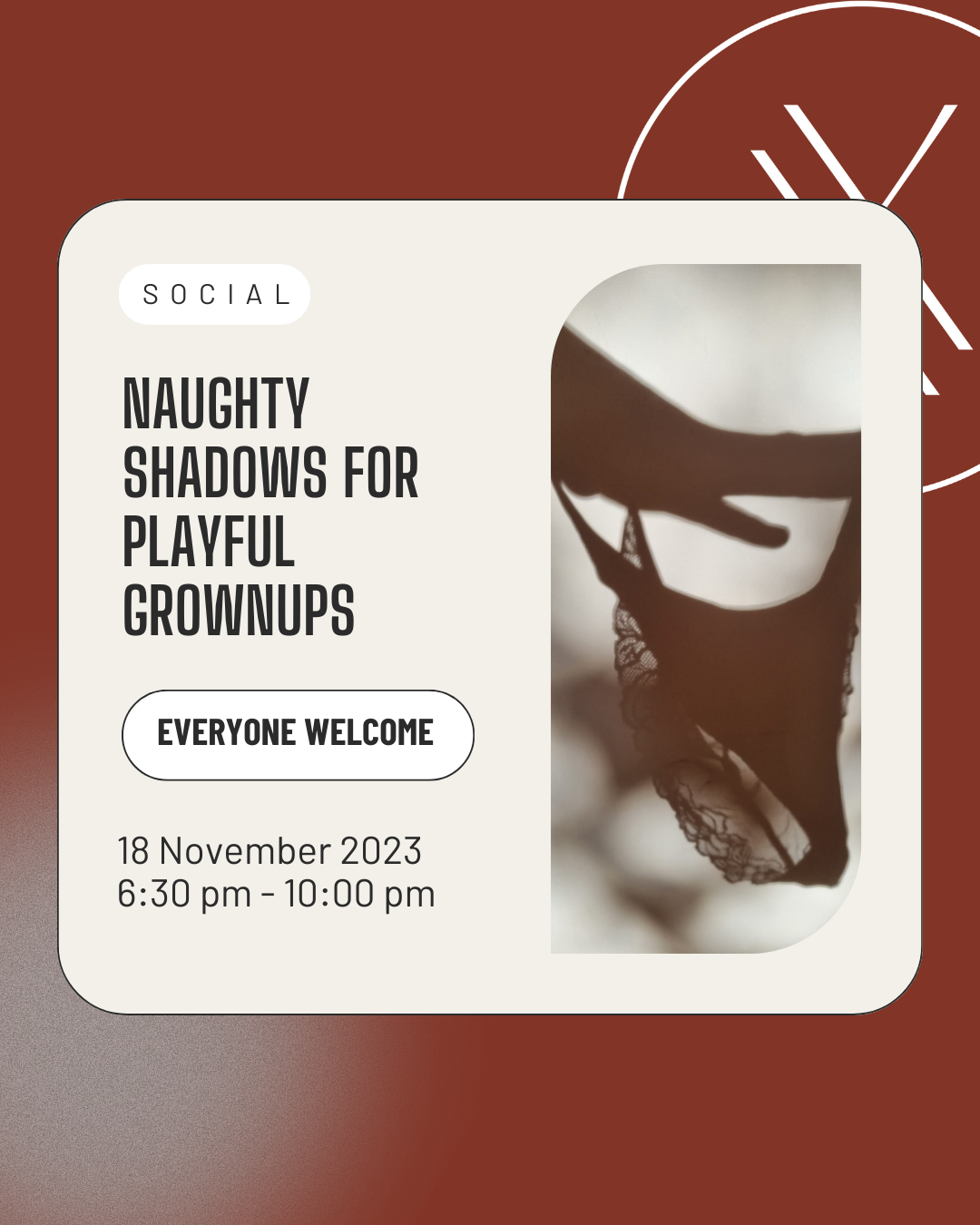 Naughty Shadows for Playful Grownups
What is this event?
A unique concept, this Shadow Puppetry Workshop will teach you to tell kinky, funny, sexy stories from your life or your imagination in a safer space for your darkest desires. We will be using the oldest form of storytelling used by mankind: Shadow Theater. That means we will be making props, using props, using our bodies, and working in teams to create characters and storylines, then putting them together on stage in a show. You will be guided by an expert in the art of Shadow Puppetry and we will provide you with all the materials needed.
We will use forbidden images, insinuations, sensations, emotions, and humor to give voice to our stories on stage, to create new characters, and maybe even to make social and political comments that have gone unspoken for too long. We bring you an evening to try something that has never been attempted before:  to express yourself freely like never before. The games and stories will be guided by IMANAI. Don't be afraid to step into the shadows!
🇷🇴 This Workshop will be held in Romanian.
📝 We confirm attendance 24 hours before the start of the event at the latest. Please register at least one day before the start of the event.
🪪 Please bring your ID card with you so we can check your age at the door. We keep none of your data, but we need to make sure that everyone is an adult. You can see here how we check your ID so that all your data but your year of birth and picture are visible to us.
What happens at the event?
Schedule with breaks
🕡 6:30 pm – 7:00 pm – Registration
🕖 7:00 pm – 10:00 pm – Workshop
Please be on time for registration, so as not to disturb other participants. We only accept on-time admissions to any workshops since you might miss important information.
How can you reach us?
Our address is Bulevardul Theodor Pallady 287. You can find information on how to reach us here or here.
There are many parking spaces in the area, especially in the evening or after 6 pm. The metro station at "1 Decembrie 1918" is the closest to us and it's only 8 minutes away, on foot.
Take the small elevator (it's behind the large stairs on the ground floor) to the 5th floor, where you will see the sign for InFLUX. One more flight of stairs up and you're there. If mobility issues prevent you from climbing up a flight of stairs, you can take the large elevator, which will take you straight to our door, but that one is much slower.
Our phone number is +40723258105 and you can write to us on WhatsApp before the door closing time.
Who can come?
Do you have kinky stories? Do you have dark fantasies? Would you like to try something radically new? Then this workshop is just right for you! Whether you have attended a Consent Workshop or not the doors of InFLUX are open to all for this Shadow Puppetry Workshop.
🎫 Fill in the form below to register for this workshop. You will receive an email confirmation and we will keep you updated with information about the event. You will also receive an email reminder close to the event, so you don't miss it.
We reserve the right to select event participants.
What are you bringing? What are you wearing?
There is no dress code for this event, so wear whatever makes you comfortable. You don't need to bring anything other than your imagination and a little bit of vulnerability to us. We will provide all the necessary materials. But if there are objects that make beautiful shadows and are meaningful to you, please feel free to bring them along.
🪪 Don't forget your ID card so we can check it at the door and ensure you are 18+!
📤 Don't forget your InFLUX card! The event requires that you have attended the Consent Workshop. We will check at the entrance if you have attended it. (check with Ana)
Who organizes this event?
Imani has been working as a Puppet Artist and Director for over fifteen years, with international experience in creating and holding performances of Cinematic Shadow Theatre. She's an artist who turns what she learns about herself into art. The images she brings to the audience are fascinating, seductive, and raise questions, making up stories, experiences, and ephemeral moments.
InFLUX Rules
Please read our rules carefully before attending our events.
Photo credits: Imanai