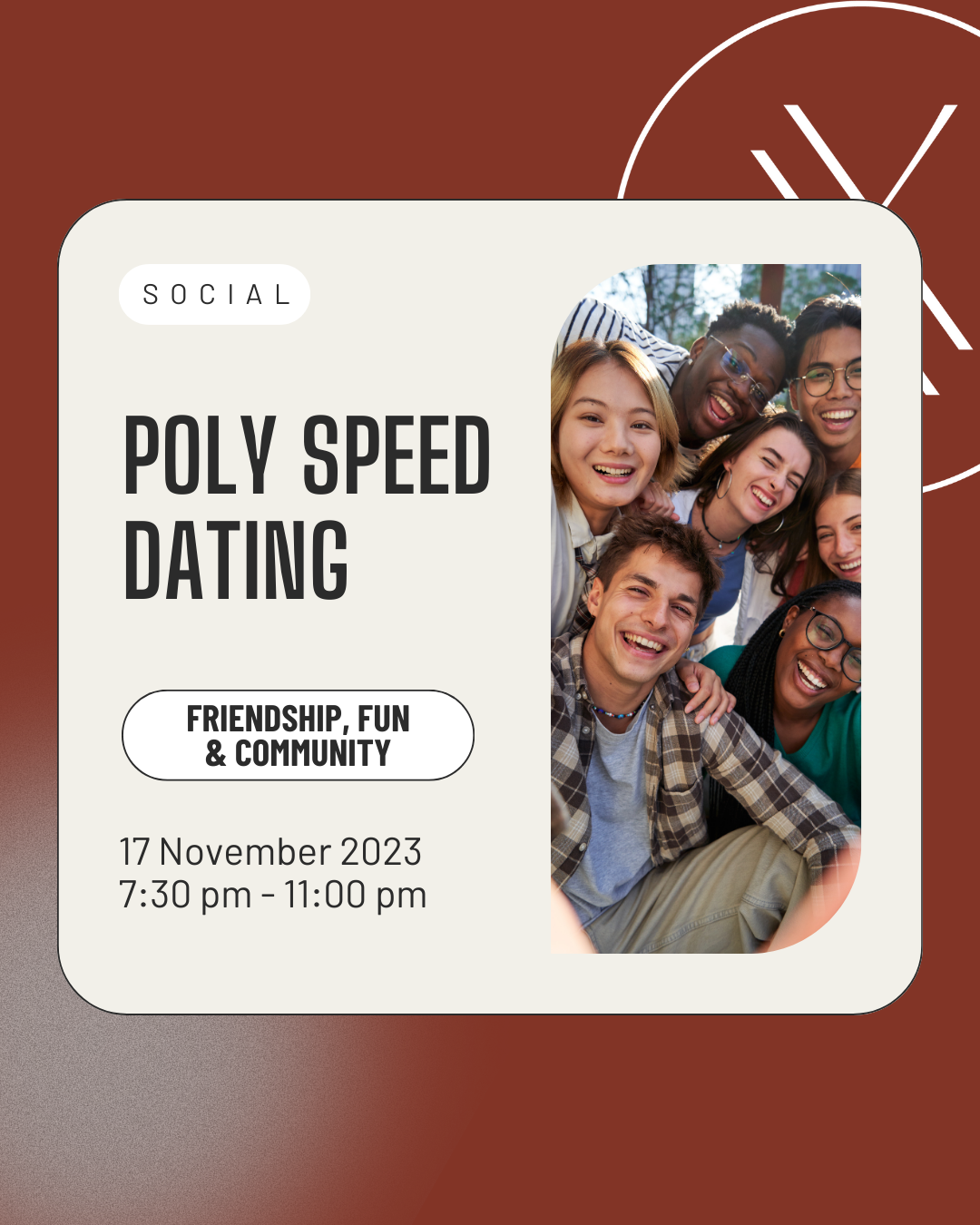 Poly Speed Dating
What is this event?
Poly Speed Dating is a social event in the non-monogamous community in Bucharest. The event aims to facilitate human-to-human interactions, in other words, it does not exclusively facilitate finding potential romantic and sexual partners.
We aim to create a space for inclusive interaction and relationships, where:
➜ We deconstruct the relationship escalator,
➜ We support diversity and do not promote heteronormativity as the only form of gendered relationship,
➜ We want to explore relational anarchy
If the above description seems too complicated, just remember this: you may leave this event with a possible new friend or, why not, a running or a knitting partner. The possibilities, the forms of relationships, and the types of connections are endless.
Attending the event does not imply any commitment to any of the people you interact with, and you can also withdraw from interacting with anyone at any time.  It's all up to you!
To attend this event, you must have attended a Consent Workshop.
🇷🇴 This event will be held in Romanian.
📝 We confirm attendance 24 hours before the start of the event at the latest. Please register at least one day before the start of the event.
What happens at the event?
Schedule with breaks
🕢 7:30 pm – 8:00 pm – Registration
🕗 8:00 pm – 8:30 pm – Presentation of the event and its rules
🕣 8:30 pm – 10:00 pm – 5 matching rounds
🕙 10:00 pm – 11:00 pm – Follow up & feedback
Please do not be late for registration, so as not to disturb other participants. We cannot guarantee that someone will be available to open the door for you after closing time. We only accept on-time admissions to any workshops since you might miss important information.
The distribution of speed dating partners will be random, regardless of the gender or sexual orientation of the participants.
1. Each participant will receive a number.
2. Participants will be randomly paired, two by two, and will have 10 minutes to get to know each other.
3. Each participant will also be given a helpful question which they can use if they want to, so as to break the ice in the discussion with their dating partner.
4. At the end of the interaction each of the two will complete a feedback form, where they will choose what they want to do next, such as:
➜ Potential romantic partner
➜ Potential sexual partner
➜ Potential platonic partner
➜ Potential other non-romantic / non-sexual activities
➜ Amazing person, but we're not in the same movie
5. If the feedback overlaps, the organizers will offer participants the contact info of the other partner, also mentioning potential compatibility, like this:
➜ If X has ticked romantic partner and sexual partner and
➜ Y has only ticked sexual partner,
➜ X will only be told the potential sexual partner's information
6. After submitting the forms, a new round of matching is started, a total of 5 rounds per edition.
How can you reach us?
Our address is Bulevardul Theodor Pallady 287. You can find information on how to reach us here or here.
There are many parking spaces in the area, especially in the evening or after 6 pm. The metro station at "1 Decembrie 1918" is the closest to us and it's only 8 minutes away, on foot.
Take the small elevator (it's behind the large stairs on the ground floor) to the 5th floor, where you will see the sign for InFLUX. One more flight of stairs up and you're there. If mobility issues prevent you from climbing up a flight of stairs, you can take the large elevator which will take you straight to our door, but that one is much slower.
Our phone number is +40723258105 and you can write to us on WhatsApp before the door closing time.
Who can come?
Anyone can come, whether they are curious about non-monogamy or practice it.
🎫 Fill in the form below to register for this workshop. You will receive an email confirmation and we will keep you updated with information about the event. You will also receive an email reminder close to the event, so you don't miss it.
We reserve the right to select event participants.
What are you bringing? What are you wearing?
There is no dress code for this event, so wear whatever makes you comfortable.
📤 Don't forget your InFLUX card! The event requires that you have attended the Consent Workshop. We will check at the entrance if you have attended it.
Who organizes this event?
George, creator of the Eropedia podcast, philosophy graduate, and fresh psychology student, interested in sexuality and power dynamics, has been exploring non-monogamy for over 10 years, and has been learning, discovering, exploring, failing, and bouncing back ever since. He loves organizing this event which has been a huge success already.
InFLUX Rules
Please read our rules carefully before attending our events.