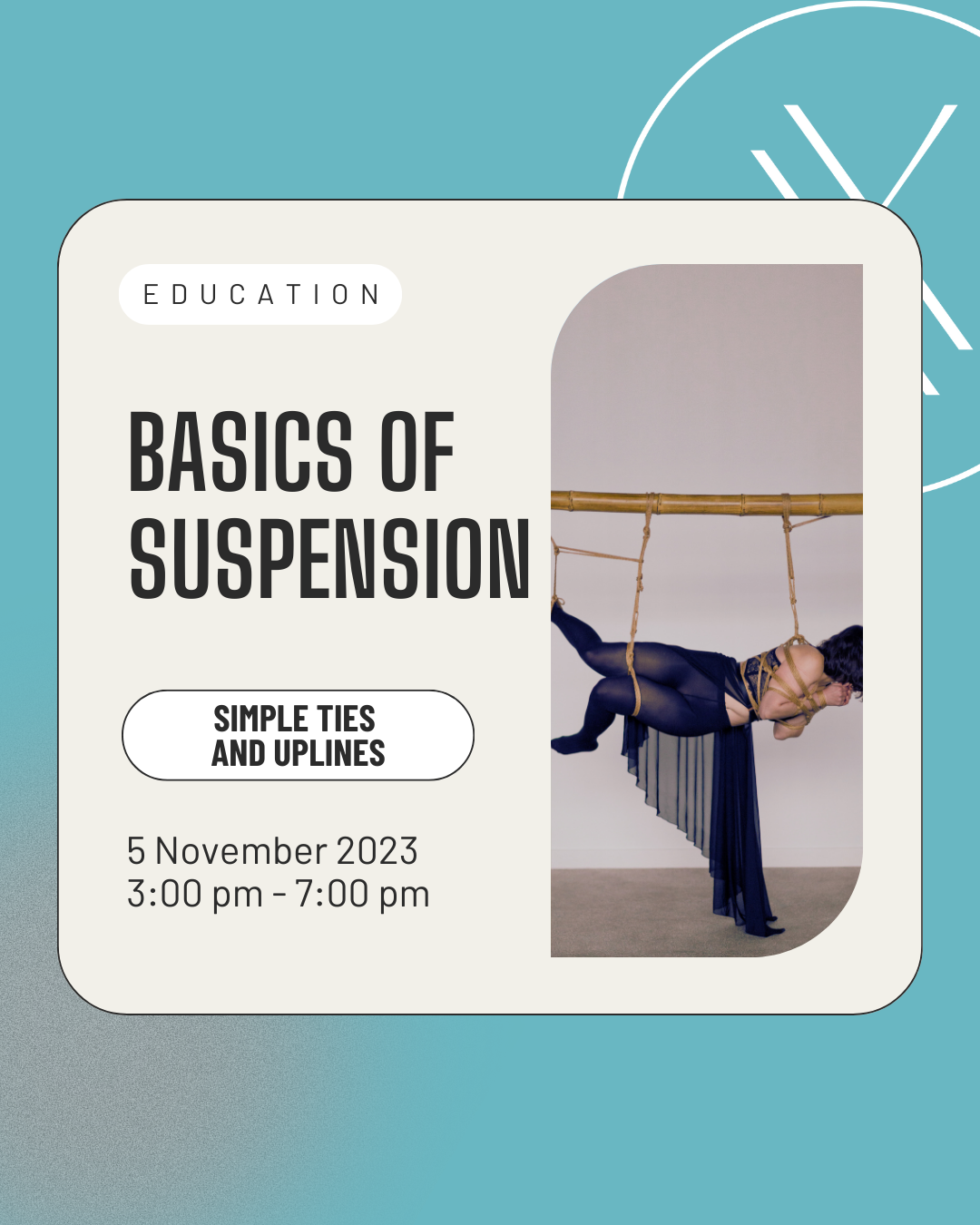 Basics of Suspension Workshop: Simple Ties and Uplines
What is this event?
This workshop will allow you to go from floor to air using simple ties and reliable uplines.
If suspension is something you're hoping to achieve, this workshop is definitely for you. We will be using very simple body harnesses, that are quick to master and check for safety. We will be looking at properly distributing weight for the comfort of the bottom and your comfort in managing the tie. And yes, we will very much fly! Places for this workshop are very limited, so get them while they are hot.
To attend this event, you must have attended a Consent Workshop. The InFLUX Consent Workshop is mandatory for attending our events at InFLUX. We are organizing a Consent Workshop in Romanian the Friday before this event, November 3. For details & RSVP see here.
🇷🇴 This Workshop will be held in Romanian.
📝 We confirm attendance 24 hours before the start of the event at the latest. Please register at least one day before the start of the event.
🪪 Please bring your ID card with you so we can check your age at the door. We keep none of your data, but we need to make sure that everyone is an adult. You can see here how we check your ID so that all your data but your year of birth and picture are visible to us.
What happens at the event?
Schedule with breaks
🕒 3:00 pm – 3:30 pm – Registration
🕞 3:30 pm – 5:00 pm – Workshop part 1
🕔 5:00 pm – 5:30 pm – Workshop internal break
🕠 5:30 pm – 7:00 pm – Workshop part 2
Please do not be late for registration, so as not to disturb other participants. We cannot guarantee that someone will be available to open the door for you after closing time. We only accept on-time admissions to any workshops since you might miss important information.
How can you reach us?
Our address is Bulevardul Theodor Pallady 287. You can find information on how to reach us here or here.
There are many parking spaces in the area, especially in the evening or after 6 pm. The metro station at "1 Decembrie 1918" is the closest to us and it's only 8 minutes away, on foot.
Our elevator was recently fixed and is now working! So take it on a ride up to the 5th floor, where you will see the sign to InFLUX.
Our phone number is +40723258105 and you can write to us on Whatsapp before the door closing time.
Who can come?
You need to know how to tie a single-column tie to be able to participate. You can practice your single-column tie by watching this video.
🎫 Fill in the form below to register for this workshop. You will receive an email confirmation and we will keep you updated with information about the event. You will also receive an email reminder close to the event, so you don't miss it.
We reserve the right to select event participants.
What are you bringing? What are you wearing?
There is no dress code for this event, so wear whatever makes you comfortable.
🪪 Don't forget your ID card so we can check it at the door and ensure you are 18+!
📤 Don't forget your InFLUX card! The event requires that you have attended the Consent Workshop. We will check at the entrance if you have attended it.
Who organizes this event?
This workshop is hosted and taught by Kitty Rea (she/her).
Kitty Rea (she/her) has ten years of experience getting tied and tying. She is an international performer and teacher on European stages from London, Berlin, Lyon, and Prague. She loves rope and bondage and cannot wait to see more people interested in the subject!
InFLUX Rules
Please read our rules carefully before attending our events.
Photo credits: photographer – Domnul Deco/ model – Khellina