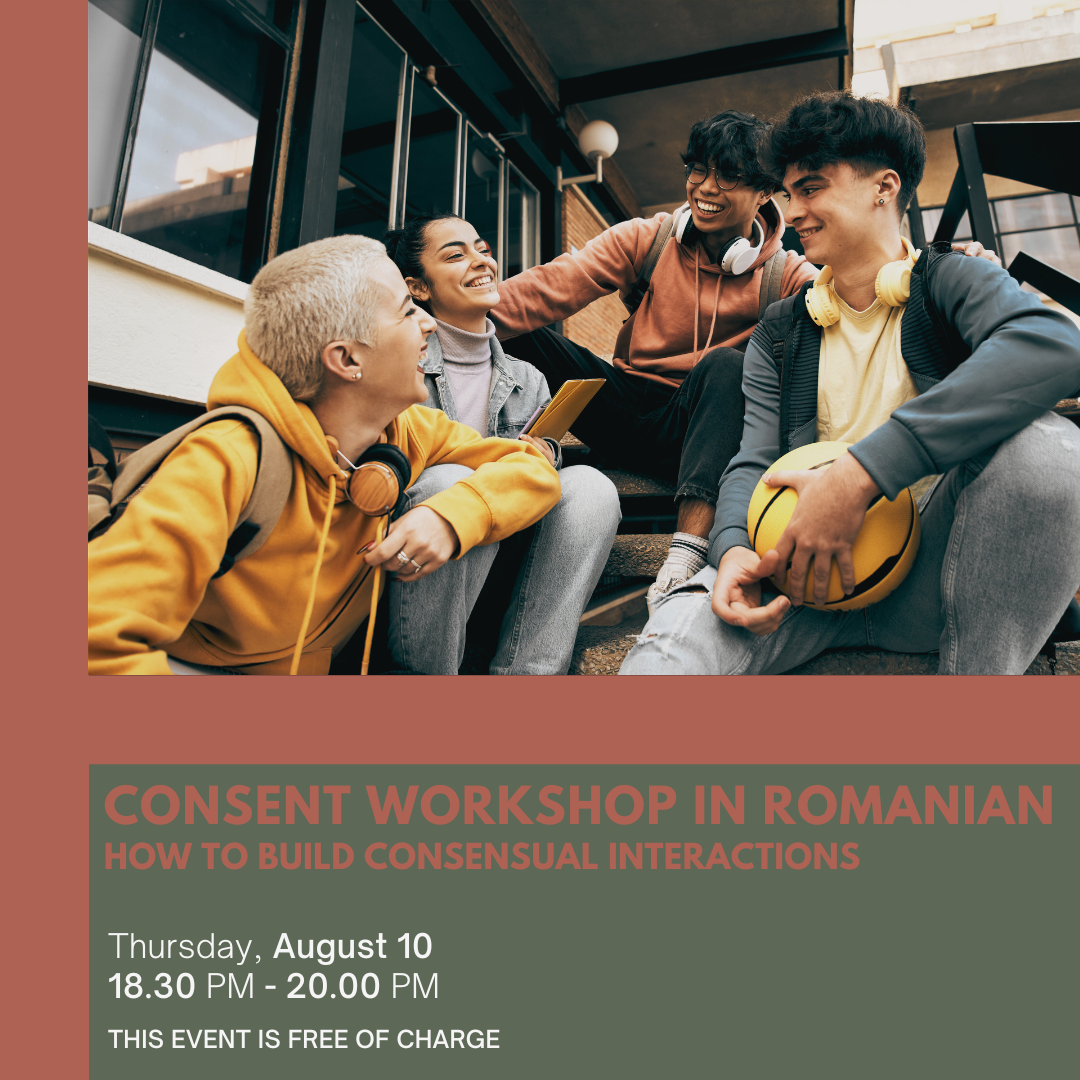 Consent Workshop in Romanian
Learn all about being a safer player!
What is this event?
This workshop will be dedicated to Romanian speakers and will be held in Romanian.
This is our mandatory Consent Workshop. Participation in this workshop will give you access to all of our events at InFLUX. Learning the content of the workshop will make you a safer person to interact with and play with.
✔️ Learn more about consent models,
✔️ How consent works in relation to power differences
✔️ What we can do in case of a consent violation.
We confirm attendance 24 hours before the start of the event at the latest. Please hit the confirm button one day before the start of the event.
‼️Please bring your ID card with you so we can check your age at the door. We keep none of your data, but we must ensure everyone is an adult. You can see here how we check your ID so that all your data but your birth year and picture are visible to us.
What happens at the event?
Schedule with breaks
18:30-19:00 – We gather at the space
19:00-20:00 – We learn about consent
Please try to respect the schedule and not be late to avoid disturbing other participants. We cannot guarantee that someone will be available to open the door for you after closing time. We only accept on-time admissions to any workshops since you might miss important information.
How can you reach us?
Our address is Boulevard Theodor Pallady 287 (go down the alley next to Casa Luminița and turn right to enter the first large, gray industrial door; we are on the fifth floor).
You can find information on how to reach us here or here.
There are many parking spaces in the area, especially in the evening or after 6 pm. The metro station at "1 Decembrie 1918" is the closest to us and it's only 8 minutes away, on foot.
Our elevator is sometimes working and sometimes needs to be fixed. Unfortunately, while we hope this gets fixed soon, it is not up to us. If the elevator does not work when you arrive, please take the stairs to the 5th floor, where you will see the sign to InFLUX. The building staircase doesn't have a lot of light, and we apologize for that. We hope the issue gets fixed soon, but until then, please use your phone flashlight to go upstairs.
Our phone number is +40723258105, and you can write to us on Whatsapp before the door closing time.
Who can come?
This workshop is open to everyone, no matter their level of knowledge on consent or any other subject.
‼️Press "Going" on our website, and you will receive an email confirmation, and we will keep you updated with information about the event. You will also receive an email reminder close to the event so you don't miss it.
We reserve the right to select event participants.
What are you bringing? What are you wearing?
Don't forget your ID card so we can check it at the door and ensure you are 18+!
This event has no dress code, so feel free to wear whatever makes you feel more comfortable.
Who organizes this event?
This workshop is hosted by Kitty Rea (she/her), a sex educator and sex coach who has been studying and interested in consent for over ten years, trying to make kink and sex games safer for herself and the people she plays with.
INFLUX RULES
Please read our rules carefully before attending our events.
---
Află totul despre cum te poți juca mai sigur!
Ce este acest eveniment?
Acest eveniment e dedicat vorbitorilor de limba română și se va ține doar în limba română.
Acesta este atelierul nostru de consimțământ obligatoriu. Participarea la acest atelier vă va oferi acces la toate evenimentele noastre de la InFLUX.
Învățarea conținutului atelierului te va face o persoană mai sigură cu care să interacționezi și cu care să te joci. Aflăm mai multe informații despre:
✔️ Modele de consimțământ,
✔️ Cum se îmbină consimțământul cu diferențele de putere,
✔️ Ce facem în cazul unei încălcări de consimțământ.
Confirmăm participarea la acest eveniment cu 24 de ore înainte ca el să înceapă. Te rugăm să dai "Going" cu cel puțin o zi înainte de eveniment.
‼️ Te rugăm să îți aduci buletinul, ca să putem verifica vârsta la ușă. Nu păstrăm niciun fel de informații despre tine, dar trebuie să ne asigurăm că toată lumea care participă este majoră. Poți vedea aici cum verificăm buletinul, astfel încât toate datele tale, cu excepția anului de naștere și a pozei, să ne fie vizibile. 
Ce se întâmplă la eveniment?
Program cu pauze
18:30-19:00 – Ne adunăm la spațiu
19:00-20:00 – Învățăm despre consimțământ
Te rugăm să respecți programul și să nu întârzii, pentru a nu-i deranja pe ceilalți participanți. Nu putem garanta că cineva va fi disponibil să deschidă ușa după ora de închiderea a intrărilor. Nu acceptăm întârzieri la niciun atelier, deoarece este posibil să ratezi informații importante.
Cum ne poți contacta?
Adresa noastră este Bulevardul Theodor Pallady 287 (intri pe aleea de lângă Casa Luminița, faci prima la dreapta și intri pe prima ușă industrială gri; ne găsești la etajul 5).
Poți găsi informații despre cum să ajungi la noi aici sau aici.
În zonă sunt multe locuri de parcare, mai ales seara sau după ora 18.00. Stația de metrou "1 Decembrie 1918" este cea mai apropiată de noi și se află la doar 8 minute de mers pe jos.
Liftul nostru funcționează uneori și alteori nu. Din păcate, deși sperăm că acest lucru se va rezolva în curând, nu depinde de noi. Dacă liftul nu funcționează când ajungi, te rugăm să urci scările până la etajul 5, unde vei vedea semnul către InFLUX. Scara clădirii nu are multă lumină și ne cerem scuze pentru asta. Sperăm că problema se rezolvă în curând, dar până atunci, te rugăm să folosești lanterna telefonului pentru a ajunge sus.
Numărul nostru de telefon este +40723258105 și ne poți scrie pe Whatsapp până la ora oficială de închidere a ușilor.
Cine poate veni?
Acest workshop pentru pentru toată lumea, indiferent de nivelul de cunoaștere despre consimțământ sau despre orice alt subiect. 
‼️ Dă click pe "Going" pe site-ul nostru și vei primi o confirmare prin e-mail și te vom ține la curent cu informații despre eveniment. Vei primi, de asemenea, un e-mail mai aproape de eveniment, pentru a-ți aminti de el, ca să nu-l ratezi. Te rugăm anunță-ne dacă te-ai înscris, ți-am confirmat participarea, dar nu mai poți veni.
Ne rezervăm dreptul de a selecta participanții la eveniment.
Ce aduci? Ce porţi?
Nu-ți uita buletinul, pe care îl verificăm la ușă, să ne asigurăm că ai peste 18 ani.
Acest eveniment nu are dress code, deci poartă orice te face să te simți în largul tău.
Cine organizează evenimentul?
Acest atelier este găzduit de Kitty Rea (ea), educatoare sexuală și coach sexual, care studiază și e interesată de consimțământ de peste 10 ani, încercând să facă kinkul și jocurile sexuale de toate felurile mai sigure pentru ea și pentru oameni cu care se joacă.
Regulile InFLUX
Te rugăm să citești cu atenție regulile noastre înainte de a participa la evenimentele de la InFLUX.